Treating Your Marquee with Marcare
.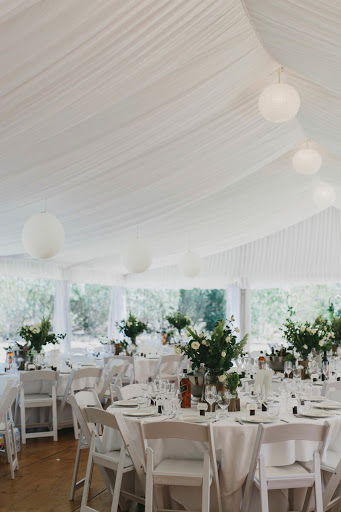 After making such a big investment on the perfect outdoor entertaining area,
the last thing you want is for your marquee to fall apart. However, there are a lot of common mistakes made by marquee owners (and hirers) that reduce the lifespan of the marquee. It doesn't take much time or effort to make sure your marquee lasts a long time. So here are Marquee Monkeys' tips on how to take care of your marquee.
Cleaning the Canopy
Tree sap, dirt, sand, dust, and all manner of weird goo can get stuck on a marquee over time. Thankfully, marquees are made to be outside in all this mess and are specially made to survive it. They're easy enough to clean with a mop or a sponge and some gentle dish soap, after you get the loose bits off with some strategic spraying of the hose.
Take the canopy down and lay it flat to gently scrub it clean. If you do this regularly, no grime will have a chance to build up enough to warrant using any stronger cleaners. Just remember to be careful around any edges and seams – if you get too rough with your scrubbing, your marquee could spring a leak the next time it rains, which would definitely put a damper on things.
Frame Fixation
The frame can be cleaned in much the same way as the canopy, but choose a soap that won't contribute to rust, and make sure the frame dries completely. A silicone spray after cleaning will keep the frame in tip-top shape, and will keep it from creaking, squeaking, and jamming when you collapse it.
Sorting and Storing
Before you put away your marquee, there are some questions you should ask. Is it clean? Is it dry? Do you have a good place to put it? If the canopy and frame aren't completely dry before you put it away, mold will grow quickly and completely destroy the fabric. Even if you catch it before that happens, permanent staining and colour fading can occur if not stored properly.
Before collapsing the legs of the frame, be sure to remove any leftover tape, string, or cord. Anything stuck on the legs could get caught and jam the structure, making it difficult to use again. Take this opportunity to check every screw and fixture for damage, and replace any missing screws before you use the marquee again. This will ensure your marquee is structurally sound and not under any undue pressure that could damage it in the long term.
Weather Wisdom
All the careful cleaning and drying and storing of your marquee won't mean much if it blows away in a strong wind and is lost forever. Before building your marquee, you should take note of the weather and prepare accordingly. If your marquee is walled, then don't have any doors facing the wind.
Additionally, it's important to secure a marquee frame to the ground first before securing the canopy to the frame.
Sharing is Caring
You're it, you're the one friend who has a marquee. Everyone and their mother will be coming to you first, every time they're hosting a party, asking to borrow your marquee. If you want to be a good friend and lend out your marquee to every Tom, Dick, and Harry that asks for it, then you should make sure you also tell your friends how to take care of your marquee.
Give everyone step-by-step instructions for erecting and taking down the marquee, as well as tips to fix any problems they're likely to have if it's their first time dealing with a marquee. Be sure to write these down too – people can be forgetful.
Most of all, remember to have fun with your marquee. Taking care of a marquee is important, but making memories is too.
Marquee Monkeys offers a selection of quality marquees perfect for your next event, so contact us today!