How To Plan A Destination Wedding (Without The Destination)
.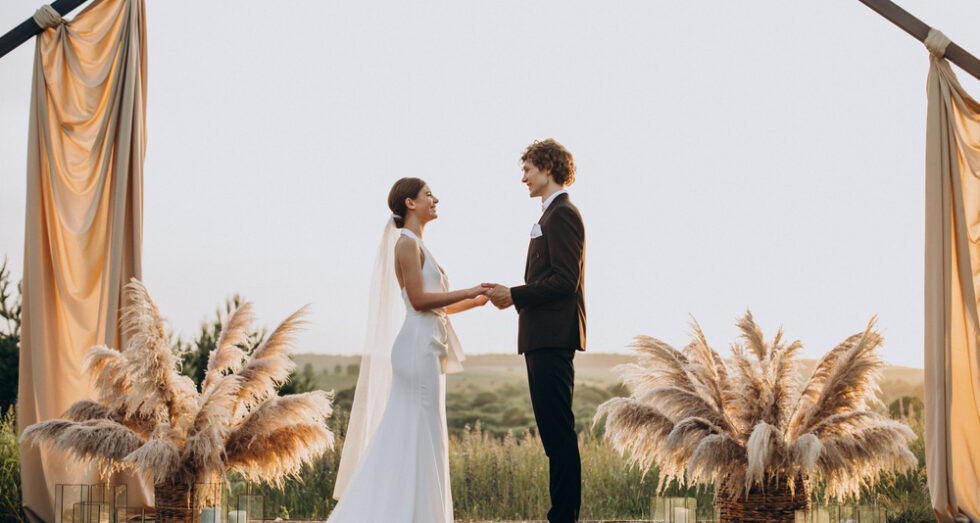 Planning a destination wedding may be a bit of a daydream for many of us. But despite the idyllic image of getting married on a beach in the Bahamas, several logistical considerations need to be made when planning a wedding abroad. For instance, if you're expecting elderly relatives to attend your wedding ceremony, you need to take into account whether or not they'd be comfortable with air travel. There's also just the sheer financial cost of organising a wedding in an international location.
How To Plan A Destination Wedding?
Everyone deserves to feel transported on their wedding day. So if you are wondering how to plan a destination wedding ceremony and reception that feels like you have indeed travelled to a faraway land without even leaving Melbourne, then we're here to help.
Here are our top tips for how to plan a destination wedding (without the destination).
Look for an atmospheric venue space
The best place to start when looking to plan any celebration that transcends time and place is by making a shortlist of party venues for hire. Ideally, you'll want to find a party venue that's chameleonic in its atmosphere. In other words, a hall or event space with sleek and timelessly designed interiors can easily be decorated to suit a wide range of different cultural settings or themes.
Some staples of any versatile event space include whitewashed walls, natural lighting, an open floor plan, and plenty of tech compatibility, so you can connect up everything from your DJ set-up to projectors or other technologies that may be useful for slideshows and videos from well wishers based overseas.
If you're able to find a local event space that ticks all these boxes, it should be easy enough to curate the atmosphere you'd like to accompany your wedding day.
Utilise the outdoor space around you
Have any outdoor entertainment areas attached to your wedding venue? Or is the great outdoors your venue all on its own, thanks to securing a wedding marquee hire from our team at Marquee Monkeys? If you've answered 'yes' to either of these questions, then our next tip for you is to make the very most of your outdoor space. 
Incorporate floral archways, outdoor furniture, and other design elements that will have you and your guests feeling transported to your dream wedding destination. For instance, if you've dreamt of getting married in a forest, you could string up some fairy lights and invest in some rustic or timber furnishings to create a whimsical 'forest clearing-type' ceremony and reception.
And what if you want your wedding to have more of an English garden flair? Then you could pitch up a glamorous white marquee or a custom marquee and set up matching white iron garden furniture to create a 'high tea'-inspired aesthetic. This can be completed with some classic red and white rose bouquets, and perhaps even some English-style box hedges for a little more greenery.
And speaking of greenery, adding some potted plants, trees, and hedges around walkways can be a great way to organically control the flow of traffic around your ceremony and reception. Just because your wedding may be taking place outdoors, it doesn't mean that you can't maintain a manicured and well-defined event space.
Use your ideal destination as design inspiration
Although we've touched upon this here and there already throughout this little guide about how to plan a destination wedding party, one surefire way of being able to enjoy a destination wedding without having to buy a plane ticket, is by simply selecting a wedding location and then using it as inspiration for your wedding theme.
Say you wanted to get married in a Moroccan temple. By incorporating some intricate tilework table nameplates or coasters and draping up some stunning Bohemian-inspired tapestries and throws, you can create a space that provides Moroccan vibes with ease.
Of course, there's more to nailing your wedding theme than just decor. Even your dinner and glassware can hail from an international destination, or they can be hand-selected to complement the dinner menu for your reception. But more on this later!
Include other cultural or thematic elements
Alongside decor and figuring out how to plan a destination wedding. You may also opt to include other cultural or thematic elements in your wedding ceremony, just to add a few extra details to solidify the transformative effect of your big day.
These additional elements could be as simple as curated playlists that match your wedding theme, or little details like significant flowers on the lapels of your groomsmen or clips in the hairstyles of your bridesmaids.
You may even opt to include warm or cool ambient lighting to further complement your selected theme. A beach or tropical-inspired wedding theme will definitely pair well with warm tealights, fairy lights, or even tiki torches and other sources of heat that are fuelled by fire.
But if you're after a more modern contemporary setting, you may opt to use cooler ambient lighting instead. This type of lighting can also perfectly suit animated dance floors for those who are looking to host a lively reception.
Other cultural or thematic elements can also include cultural events like setting up a chuppah or wedding canopy for Jewish weddings or arranging Bollywood-style dance performances on scintillating dance floors for those looking to throw a South Asian wedding celebration.
Curate your menu and bar list to fit your theme
Finally, with any wedding party theme, comes the opportunity to design a tailored dinner menu for your reception. Having a dinner menu and accompanying drinks list that supports your theme can help ensure that your 'destination' wedding feels that much more immersive and becomes a more detailed experience for your wedding guests.
Some example menu items could include aromatic curries for South Asian or even Moroccan-style weddings, tropical-themed cocktails for coastal-inspired weddings, or hearty, homegrown-type menu items like stews or pot pies for rustic weddings. 
Just be mindful of how you'll be sourcing international dishes or ingredients. You may have to bear higher prices in order to make sure that your culinary delights are authentic in taste and perfectly align with your theme. You could even opt to use seasonal, locally sourced ingredients or ethical suppliers to keep costs low.
~
Best Way On How To Plan A Destination Wedding Minus The Destination
With all these tips and tricks on how to plan a destination wedding without the destination, you should be able to craft yourself a wedding venue that transports you to faraway places – all without having to leave your hometown. 
Want to see how adding a stunning marquee can help elevate your wedding party atmosphere? Get in touch with our team at Marquee Monkeys today to inquire about any of our marquee sizes and prices. We're always happy to provide a no-obligation quote to help you plan your next event with the utmost confidence.