Tick Tock: The Marquee Wedding Checklist You May Have Forgotten
.
Planning a wedding can be stressful and even the most organised couple can forget some of the little things in the run-up to their big day. Your wedding day is one of the most important days of your life and you want to ensure that everything goes according to plan, especially with a marquee wedding checklist. You don't want to be stressing out on the day because you suddenly realise that you never finalised your wedding marquee hire, forgot to leave a budget for gratuity or your vegetarian friends are left to go hungry because you failed to plan for their meals.
With so many different elements to keep pulled together, it's easy for some jobs to slip through the cracks. And, if you're delegating tasks between you, your partner, parents and other members of your wedding party, there's an even greater chance that something will be missed.
To avoid any unnecessary stress on your big day, be sure to pay close attention to the little things on your marquee wedding checklist. You probably won't forget your wedding dress, or bouquet or erect your wedding marquee for hire at the venue but you might overlook some of the less obvious parts of your wedding day.

Marquee Wedding Checklist To Keep In Mind:
Let's take a look at some often overlooked elements of planning a wedding that you need to add to your marquee wedding checklist.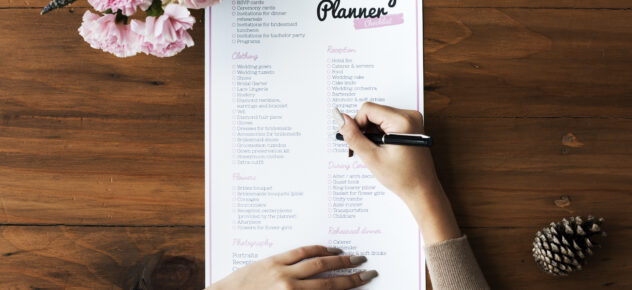 Back-Up Plan
Every bride and groom hopes for blue skies and beautiful weather on the day of their wedding but, unfortunately, this is not always the case. While you can control a lot of the different parts of your wedding, the one thing you can't control is the weather. If the forecast is for rain or even strong wind, you need to have a contingency plan in place.
The last thing you want is to try to organise a hired marquee at the last minute, hoping that you can get it in place in time to shelter your guests from the elements. Plan in advance with your marquee wedding checklist for both good and bad weather to avoid any undue stress.
Plan For Dietary Requirements
In any large group of people, you are going to encounter issues with dietary requirements and it's important to prepare for these in advance. Vegetarian, vegan, gluten-free, lactose-free, nut allergies and soy allergies are just some of the most common dietary requirements that you might need to cater for.
The easiest way to plan with your marquee wedding checklist is to ask your guests when they RSVP if they have specific dietary needs. However, sometimes people might forget or have different requirements by the time the big day rolls around so be sure to ask the caterer what they can do in the case of a last-minute request.
Budget For Gratuities
Saving for a wedding can take some time and those costs just seem to continue to escalate the further into the wedding planning you go. One thing that many brides and grooms forget to budget for is gratuities. On the day of your wedding, you will need access to cash to tip your caterer and other providers on the day.
Of course, it's not 100% necessary but a lot of couples will want to leave gratuities for the venue staff, drivers, musicians and other wedding providers you use on the day. Just be sure to have a budget set aside alongside your marquee wedding checklist to allow for these additional expenses in advance and you won't need to worry about it on the day.
Overtime For Vendors
You might have hired that ice-cream truck for just an hour but now that the wedding is in full swing, you realise you should have booked them for two hours. Perhaps your marquee at the wedding was due to be taken away at 5 pm but now that it's set up, you want to keep it until 9 pm. Despite all of your meticulous planning, things can still change last minute and it's a good idea to talk to your vendors about the possibility of overtime should the situation arise.
They might be able to accommodate you or they might be booked again directly after your event. If you know what the marquee wedding checklist is in advance, you can better manage this situation should it arise.
Expect The Unexpected On Your Big Day
No matter how carefully you plan for your big day, there is always the chance that things won't go according to plan. To ensure that your day goes smoothly, it's important to add planning for the unexpected to your marquee wedding checklist.
Too many brides and grooms forget to plan for the unexpected and end up trying to fix things on the fly, dealing with providers and vendors on the day instead of enjoying what should be the most important day of their lives. Plan for the unexpected and make sure you can relax and enjoy your big day to its fullest.