How To Celebrate New Year's Eve At Home
.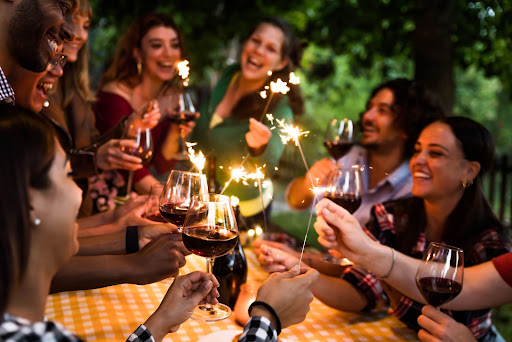 So, you want to have a blast on New Year's Eve, but don't want to go out? We can sympathise. Celebrating the end of the year with your friends and family can be fun, but let's be honest; fighting the crowds and noise to watch the fireworks in the Melbourne CBD is overrated. Knowing how to celebrate New Year's Eve at home is where it's at. And don't worry if you're stumped for party ideas – we got you covered! In today's blog, we will show you how to host a New Year's Eve party from the comfort of your home. Keep reading to find out our 12 different ideas!
1. Host a karaoke night
There is nothing better than singing your favourite tunes along with your friends and family. You can plan out an open karaoke or a competition for the enthusiastic members of the party! Just imagine your loved ones singing and dancing with you. Some with melodious voices and a few horribly out of sync, but all of them enjoying the night anyway! That's a great way to celebrate New Year's Eve at home.
2. Have a cocktail party
Drinking games and having all your loved ones drunk and in the same place always leads to epic, unforgettable fun! Bringing in large containers and mixing up your drinks can be way more exciting than it sounds. You can find thousands of cocktail recipes to choose from and select the one that suits your taste. Fill your glasses and let the bash begin!
3. Prep the props
In this digital age, everyone wants to have the most trending pictures and videos for social media. Why fall behind? Create your own frames and props for a fun photography session. It can be from your favourite movie, a trending meme, or props welcoming the new year, or you can let your imagination run wild and create something never seen before! You will definitely have a memorable night with this cool idea.
4. Enjoy your family gathering and dining experience
Some of us just like to spend some quality time with our family. What better time to do it than New Year's Eve? You can decorate your dining table with a simple but elegant cloth and a centrepiece. Invite your close family members and have a simple dinner with lots of talking, laughing and reliving memories.
5. Enjoy a backyard celebration
Have you got a nice big backyard? Turn it into a party spot for the night! One nice, big, clear span marquee can get you all set for a New Year's Eve celebration in your backyard. There are various sizes available depending on the number of guests you want to accommodate. This can be a perfect set-up for you to have a sophisticated backyard party at home.
6. Light the barbeque
This is a great way to unwind with your friends and family over some grilled snacks and chilled drinks. Gather your crowd, fire up the barbeque and take turns cooking and eating as you like. This can be a fun way for everyone to bond and have a good time and celebrate New Year's Eve at home.
7. Groove at your retro-themed party
A retro-themed part is a fantastic way to relive the good old days. The retro dress code and party arrangements like the 80s will surely stir up some nostalgic moments. You can also curate a playlist of old songs and dance to the evergreen tunes. Why not hire a dance floor to groove the night away?
8. Make it easy with a fishbowl party
You only need some paper, pens and a few interesting people to jam up this party. You can have a fishbowl where everyone drops in chits with their new year's resolutions, their most embarrassing moments of the past year, or the best moments in the past year. You could even have all of these, depending on how long you want the party to last. You can then simply read them out of the bowl and have a good time. Maybe try guessing the person who wrote the chit to spice it up while celebrating New Year's Eve at home!
9. Game time
Who said a party has to be all dance and drinks? Arrange plenty of board games and a lot of finger food and you got a great party going. This is the best option when you have a lot of kids coming to your party (finally, something to get them off the screens). Also, board games like scrabble are knowledgeable and fun, so it's really a win-win, isn't it?
10. Enjoy a pyjama party
If you want to celebrate New Year's Eve at home without a big party and a lot of people, dancing, drinking, and loud music, then this idea is for you. Host a cozy sleepover on New Year's Eve with your circle. Switch into your pyjamas, order some pizza (or anything else, if pizza is not your thing!) and chill with some drinks. You can simply talk or watch a few movies to spend the time.
11. Sit down for a movie marathon
If your whole gang are movie buffs, then a movie marathon can be the best idea to celebrate New Year's Eve at home. Prepare a list of movies beforehand, grab some tables and chairs to curl up in, and stack up on popcorn, snacks, bites and drinks to make sure nothing breaks the marathon!
12. Sit around a campfire
This one is pretty easy to set up if you have ample space in your front yard or backyard. Burn up a few logs, gather around, sing and play along or just share interesting stories and experiences. Arrange for marshmallows to roast in the campfire and you will have an atmosphere you will not want to come out of. This is a simple way to celebrate New Year's Eve!
So there you have it – 12 fun and easy ways to celebrate New Years Eve at home this year!
Want to learn more about hosting and planning events? Whether it's an engagement party, teenage birthday or garden party, explore the rest of the Marquee Monkeys blogs today.