Planning & Decorating A Garden Party
.
There are few things in this world that Australians appreciate more than a good garden party. Between the beauty of nature, the freedom of the outdoors, and the undeniable charm of eating with the wind against your skin, there is a lot to like about this eternally-beloved pastime. However, as with any type of event, a good garden party takes time and effort to set up, especially if you're looking to make it special. So, knowing how to plan a garden party and, just as importantly, how to decorate a garden party are absolute necessities for those that want to get the most out of their backyard area.
At Marquee Monkeys, we are passionate about events of all shapes and sizes, from small gatherings to full-blown festivals. So, if you want to know how to decorate your garden party or just how to plan a garden party in general, we're here to help.
How to Plan a Garden Party
Before you start thinking of ways to decorate your garden party, it's important that we get the basics out of the way. Whether you're throwing a nighttime candlelit party or a summer get-together, knowing how to plan a garden party means thinking ahead and being proactive with all of your ideas. So, what will you need to do, and how do you get around the potential pitfalls of party planning?
Budgeting Breakdown
You wouldn't go on holiday without checking your bank account, so why would you go into party planning without knowing what you're working with? Even the smallest of gatherings will require some items, from food and drinks to utensils, candles, extra seating, or any number of other expenses depending on the scope of what you're looking to achieve. This is doubly true if you're looking to go out of your way decorating your garden party, but we'll get to that later. Just remember to pay attention to your budget and make a list of items that will need to be purchased early on.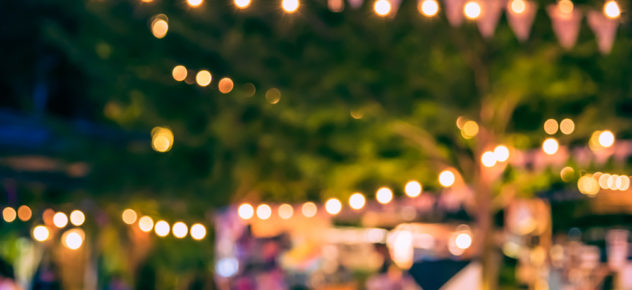 You Always Need More Food Than You Think
Parties are one area in which overestimating your needs is a very good thing. You want people to have a good time, and you don't want to be panicking midway through an event because the food didn't last as long as you thought it would. So, when you're planning out the meals and drinks for the day, just make sure you always have more than you think to avoid any disappointments down the line. Plus, with extra food comes eventual leftovers; it's a win-win situation.
Don't Take the Weather For Granted
The weather forecast may look like clear skies, but that isn't always the case. The weather can change at a moment's notice, and whilst some climates may be easier to predict than others, at the end of the day, it's best to be prepared. At Marquee Monkeys, our marquee hire options are perfect for just about any weather, protecting you from punishing sun or vicious rain, so you know you're ready for anything that can come your way. Additionally, it's also best to get sunscreen and umbrellas just in case people need to venture out and down want their outfits ruined immediately. If you're planning an outdoor event in between April and October, why not hire a heater to stay on the safe side and keep your guests comfortable.
Guest List Guidelines
Long story short, know what type of party you're having. If it's a small gathering in a small backyard, then you need to know how many people you can invite before it becomes a problem and who you want to party with. Your guest list will make or break your garden party, so it's where a lot of your thought should go. Also, when you're planning out who will be there, that's a good time to start preparing for any special needs, such as dietary restrictions or certain things that would prevent them from participating if left unaddressed.
Choosing a Theme
When we say choosing a theme, it doesn't have to be as specific as a Batman-themed birthday or a costume event. However, every party is inevitably going to have a theme, even if you don't intend it. So, think about what type of event you want to host and what the ideal outcome of it is, so you can cater everything to that. From your music choices to your decor, knowing how to plan a garden party means knowing what you want and doing it. So, no matter what, the more you put into your planning, the more likely you are to get something good out of it.
How to Decorate Your Garden Party
Now that you've prepared, you know your theme, and you have all the basics where they need to be, it's time to start styling. Naturally, the way you style is going to be based entirely on the theme or aesthetic that you decided on in the previous tip, but there are some base ideas that can be added to give your party decor a fantastic little boost:
Hanging candles will make your entire look that little bit more whimsical whilst also providing some extra light once the sun goes down.
Feed into the garden theme by decorating with natural garden finds. Couple this with wooden tables and chairs, and you will have a spectacular vj panel country-style setup with very little effort required.
Consider setting up tents and other little nooks if you're planning to have a lot of people around. The party vibe is fantastic, but it's also nice to have a little getaway whenever you need it.
Make your decor practical! From little shades that fill out the space while offering a little extra protection from the elements to little blanketed areas for people to rest and relax if the weather is right for it, functional style is always going to be a hit.
Remember to relax and not go too overboard. The main thing that makes or breaks a party is the guests, and if you have a good group of friends and enough food and drinks to go around, everything else is going to just be a bonus.
So, with all of this, your party planning checklist should be ready to go! If you're ready to take things to the next level, contact the marquee specialists at Marquee Monkeys for your marquee hire needs. Alternatively, for more party planning tips and tricks, visit our blog section for more helpful posts like this one. Whether it's for planning an engagement party, New Year's Eve party at home or a teen birthday party, we have everything you need to know!