6 Things To Consider When Choosing a Marquee Company
.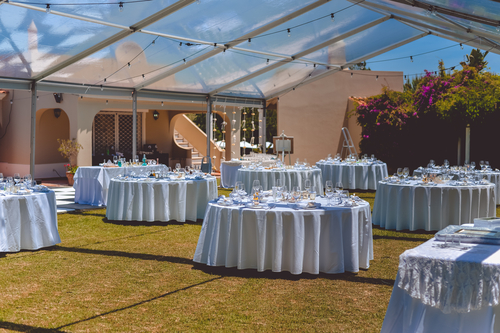 Marquees are wonderful additions to any event, and aside from adding shelter to an outdoor party, they add a touch of class too. A marquee means shade from the sun for you and your guests, a roof over your head in the event of a rainstorm, heat in the cold, respite in the heat, and tables and chairs from which to dine.
While they all operate on the same principle, just like marquees, marquee companies don't all go about things the same way, with the same values and the same products and services. To help you to find and pick the perfect marquee company for you, we've put together a quick list of six things to consider when choosing a marquee company.
Size Options
The options available for a marquee company's will reflect the kind of clients they're used to dealing with, so a company that only offers one size of marquee is probably used to dealing with only that one kind of party, and one that has three or more sizes is probably more suited to handling many different kinds of event. The distinction between the latter and former is important, because the more versatility they have in their selection, the more likely they are to know about what kind of supplies you'll need for your specific shindig.
Quality
The quality of the marquee is also important, and can reflect the quality of the company itself. A company that isn't interested in maintaining their marquees likely won't supply high-quality marquees, because they'll need to replace them more often due to wear and tear. Similarly, a company that does provide high quality marquees will be more likely to provide care instructions for their precious cargo, and have security deposits that need to be met.
Flooring
A marquee without a floor is like a bed without a mattress – pretty, but seriously lacking in support. Flooring adds another anchor point for your walls, and as well as that it also gives your guests even, dry ground upon which to stand. Old people, children, and people with injuries are all susceptible to tripping or rolling ankles on even ground, and so they need something more reliable than just the soft dirt under their feet. 
Range of Service
A good indicator of the quality offered by a company is the other services it provides. Sure, you can have a company that just provides marquees and nothing else, but then are they really catering to all of your needs? What if you need lighting and heating? What if you need tables and chairs and plates and glasses?
Any of the other things regularly associated with an event that needs a marquee should be available through your marquee provider, and this is a sign that they are helping to simplify your hiring process.
Availability
The availability of these marquees is key, because even if they've got everything you need, your choice of company needs to have those things in stock by the time your event comes around. Availability is usually dictated by the amount of stock a company has, so you should shop around and ask about their availability around the time of your event, to make sure you're covered. 
Extras 
Finally, all the little aesthetic extras can really add a zing to your party. A company that offers side tables, audio systems, and other fun things is more likely to cater to a larger party, and, therefore, will have more to offer for your shindig.
Now that you have the information you need to make an informed decision, it's time to start planning and booking your marquee event!