How To Decorate A Marquee For A Wedding
.
Wedding marquees are an excellent choice for those wanting to accommodate any number of wedding guests in an intimate setting. One of the benefits of choosing a marquee for your big day is that they can be set up in most locations, whether you choose to hold your wedding reception at home or a picturesque outdoor location that holds a special place in your heart. Another benefit of choosing a marquee for your wedding is that they provide a blank canvas which allows you to create a backdrop that suits your individual tastes, style or theme for your celebrations.
Below are five things to consider when deciding how to decorate a marquee for a wedding: 
Flooring
Choosing the correct flooring for the interior of your marquee can be a great way of adding a touch of elegance to your wedding reception. If you love the idea of having a festival themed marquee, but don't want your guests walking through mud or dirt and potentially ruining their footwear, synthetic grass could be the answer. Perhaps you would prefer a more sophisticated setting? Carpeted flooring options will give a more opulent feeling to your wedding marquee and usually come in a large variety of options with something to suit everyone. If you are looking to hire a band or DJ for your wedding reception then it's also important to consider hiring a dance floor for you and your guest's enjoyment.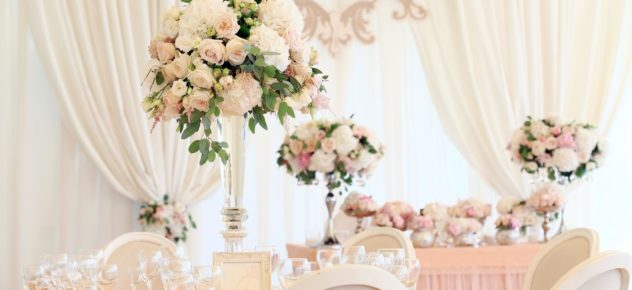 Use of Decorations 
The size of marquee you choose for your wedding will influence the size and number of decorations needed within the space. Marquees can often feel like a huge space to decorate so you will often need to go bold with the decorations you choose in order to give your space the wow factor. If you think that small, delicate decorations are better suited to your style then you may want to consider using a larger amount of them. This will prevent more minimalistic decorations from getting lost or blending in too much whilst still in keeping with your preferred style. 
Don't forget to decorate the ceiling
If you don't opt for a clear span marquee then it's important not to forget about the ceiling when decorating your wedding marquee. A plain white ceiling will leave the rest of the space feeling a little lack-lustre so consider hanging garlands, chandeliers or balloons that compliment your overall scheme. If you're going for a more organic feel then flowers and other types of greenery can be used.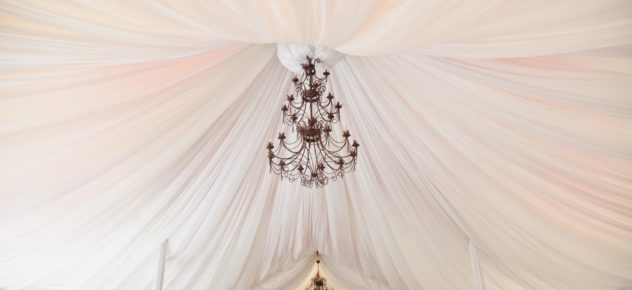 Set the mood with the correct lighting
Lighting is an important factor in any space and your wedding marquee is no exception. Fairy lights can create a romantic atmosphere and are also easy to install. Festoon lights are also a great choice and can be hung from almost anywhere. If you're looking for a lighting solution that has a more dramatic effect then look at installing decorative lanterns or chandeliers to your space. 
Create zones within your marquee
Sectioning off certain areas of your marquee can make space feel cosier and more intimate. You may want to create a bar area or maybe a chill-out zone with comfortable seating where your guests can take a moment to relax. Use decorative screens or curtains that fit your overall design scheme to create these spaces. Zoning your marquee in this way can also make decorating each space feel a little easier. 
Choosing the best way to decorate your wedding marquee can take months or sometimes years. At Marquee Monkeys, we can guide you through every part of the process. From choosing the size, space or destination of your wedding marquee to providing those all-important finishing touches. We'll even come back once the party's over to pack up and remove your marquee, leave your space exactly how we found it. Contact us today and make your wedding dreams a reality.