5 Outrageous Outdoor Wedding Blunders And How to Avoid Them
.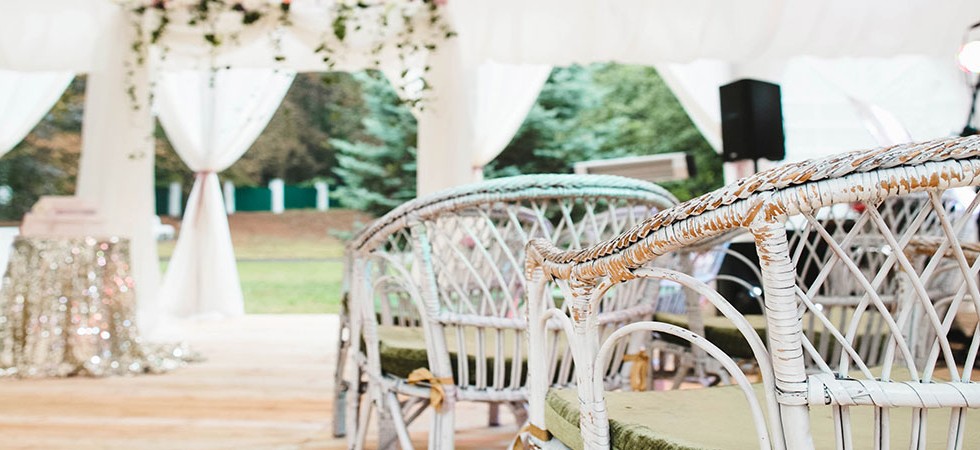 Picture this: the calming breath of a cool breeze accompanied by the smell of wild flowers, as nurturing trees sway in the distance. However, with great reward comes great risk. Read on to ensure that you can avoid the 5 most common outrageous outdoor wedding blunders.
1. Not setting a budget
It's easy to become overwhelmed with the excitement (and nerves) of planning your big day. This can make it difficult to effectively compartmentalise just what you need to do and when. It is absolutely paramount that you organise your wedding in the correct order; and this means planning a budget before you do anything else. Shopping for a wedding gown, picking a venue or sorting out any of the dynamics of your wedding day before setting the budget can cause a complicated dilemma. Don't put yourself through the pain! It's dangerously easy to fall in love with a location that doesn't fit your finances. Count your money and plan carefully before making the big decisions.
2. Not having a backup plan
The beauty and grandeur of a well-executed outdoor wedding is unrivalled. However, it can quickly turn disastrous without a backup plan. Predicting the weather is a notoriously fickle game, especially Down Under. Too many couples examine the forecast and rely on it religiously to help them plot the perfect outdoor affair. Planning without precaution like this can easily lead to an outrageous outdoor wedding blunder. It's far better to be over-prepared than underprepared. Don't leave your guests out in the rain, find the perfect marquee for your wedding which will add both protection from the elements and a hint of classic style.
3. Planning a party that lasts too long
The union between you and your partner may very well be your big day, however it doesn't have to last all night long. Try not to plan too many activities into your celebration. Think about a reasonable allotment of time for drinks and nibbles, speeches, eating, dancing, plus whatever else you want to fit in. On average, receptions run for four to five hours, in order for guests to enjoy the night but not become exhausted and out-partied. It's better to end on a high note than a low one; don't overdo it, let the night end naturally.
4. Losing control of the crowd
The flow of your wedding should be comfortable and seamless, but never overcrowded. A wedding experience should be enjoyed by guests that feel as if they have enough room to move, but are not in a huge empty space. When picking a venue, ensure that you think about exactly how many guests will be in attendance. Allow enough room for meals, dancing and the ceremony portion of the wedding.
5. Not giving enough information
Outdoor weddings usually require more planning than indoor weddings. However, when pulled off, the risk far outweighs the gain at the end. One of the inherent risks that you need to watch out for is not giving your guests and wedding party enough information. Don't assume people will know everything. Establish the details of the wedding clearly, concisely and repeatedly: the date, the time, the venue, transportation as well as any other details that you see fit.
When carried out exceptionally, an outdoor wedding can provide incomparable elegance and timeless class. If you want to incorporate the beauty of nature into your wedding, give Marquee Monkeys a call today to see what we can do to ensure you avoid any outdoor wedding blunders.