How to Decorate a Marquee For A Birthday Party
.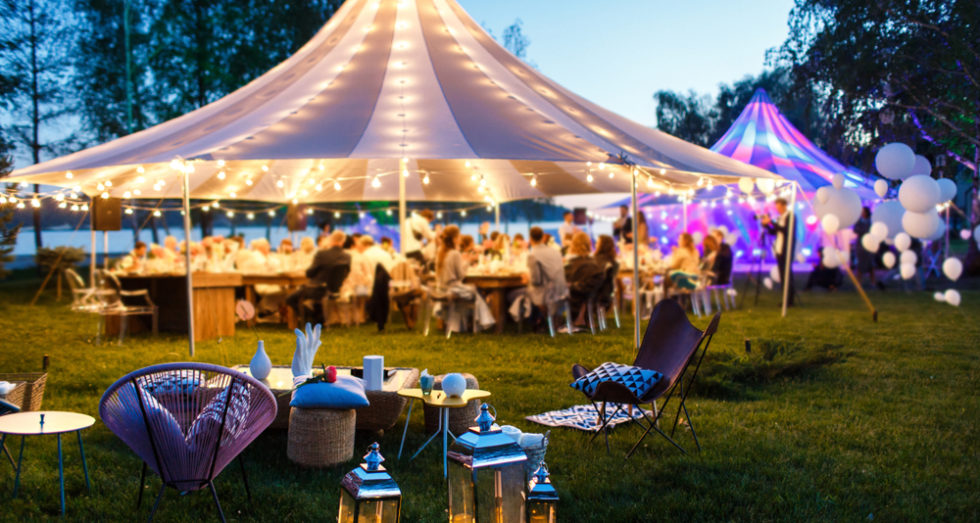 There are times in life when you need to celebrate an occasion. Weddings, anniversaries, Christmas, New Year's Eve, promotions, retirement and moving into a new home. And who could forget birthdays? The major ones that the Western world tends to celebrate are the eighteenth, twenty-first, and on from there the thirtieth, fortieth and so on. Throwing a birthday party can be as simple as a cake and candles and as elaborate as hiring a ballroom in the middle of town. Or, you can throw up a marquee in your backyard. Today we're going to learn how to decorate a marquee for a birthday party. So read on to discover some tricks and hints. 
Fairy Lights are a Great Idea
If you host your party at night, then you want the perfect ambience. A great way to achieve a brilliant looking marquee is by hanging some fairy lights from the top. You should opt for multi-coloured lights over plain white, and get some that flicker and flash – creating a warm, inviting and gorgeous ambience. You can opt for either solar-powered or ones that operate from a mains power source. Solar will work well in spring or summer, on a clear day with plenty of time to charge up. Otherwise, opt for the safe bet and buy a set that plugs into mains. 
Create a Gorgeous Centrepiece
Ideally, you should have tables and chairs under your marquee for your guests to sit and relax on. A way to create a stunning impact on the big night is to create a bold, brave centrepiece in the middle of the marquee. Place a table in the middle – this can be the seat of honour for the special person on the day. Then, place a strong statement item in the middle of the table. This could be a beautiful flower arrangement, a sculpture or even a fountain! The limit is your imagination. You want something that will take the collective breath of your guests clean away. 
Hire or Buy A Projector
The latest trend in the party world is to hire or buy a projector to go along with your marquee. The idea is you can project images onto the large, white walls – which are the perfect surface for this. You can project a montage of images of the birthday person, some nice art or even a psychedelic pattern if your party is on the wild side. This is another way to impress your guests and make your party the event of the year. 
Paint the Air with Scent
So far we've focused on the visual aspects of decoration, but decorating for a party can involve more than just the sense of sight. Consider how you can titillate your guests sense of smell, too. You can utilise scented candles placed on each table to create a vivid picture of scent or incense sticks. If you opt for incense you might want to ensure at least one wall of the marquee is open, otherwise, it may get too smoky inside and the last thing you want is to trigger an asthma attack or coughing fit in your guests. 
A Conclusion Fit for a Party
There are a few things you can do to decorate your marquee and get it ready for a rocking party. Fairy lights are always a safe bet, and they will add a gorgeous lighting ambience to your event, especially if it is held at night. Consider a beautiful, bold centrepiece for the middle of your marquee – flower arrangements or a fountain are a safe bet. Either hire or buy a projector to cast some images against a big white wall. Finally, entice your guests' sense of smell with scented candles or incense stick. Have a great night, it will be one to remember.