Top 5 Tips for Styling a Marquee Wedding
.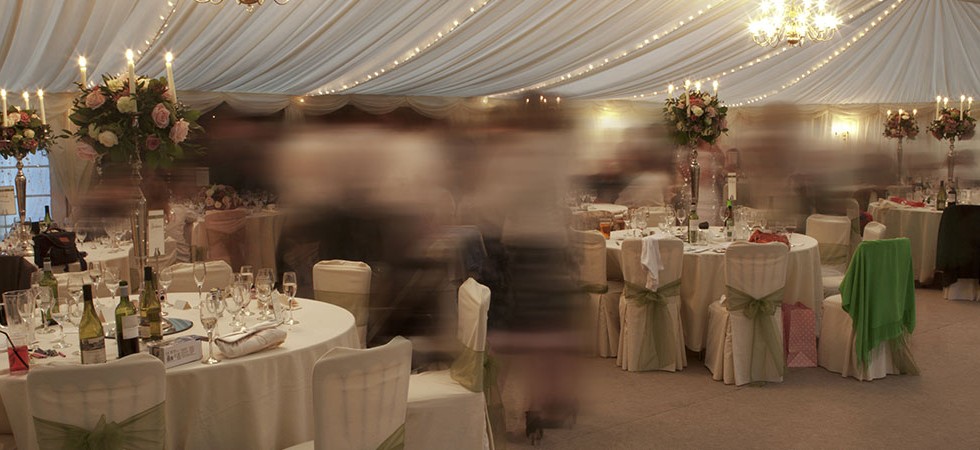 There are few other wedding options that can give off the same class and style that a marquee can. With such a malleable space, the wedding of your dreams can truly come true if executed well. To help you plan your special day, we've collated our top 5 tips for styling a marquee wedding.
1. A memorable entrance
Your big day deserves the right kind of entrance. Make full use of the opportunity offered by marquee weddings and create a glorious entrance for you and your nearest and dearest. As well as providing beautiful aesthetics, a clear entrance provides direction to your space, signalling structure. Ensure your guests are greeted with a warm welcome by decorating one opening of your marquee with flowers and lights.
2. Don't lack on lighting
As with any indoor or sheltered space, lighting is is a fundamental part of styling that should not be approached lightly (mind the pun). Most marquees will come equipped with uplighters, which push light upwards through a soft shade. Don't be afraid to add your own ambience, however, such as fairy lights or portable lamps.
3. Cordon off specific areas
The nature of a marquee is flexible, so that you can transform the blank canvas of a space into any number of sections or areas. For instance, signal a bar area by creating a cute, hand made sign. As well as this, use kitsch rope or material to organise the space into eating, dancing and sitting areas.
4. Decorate with design
One of the largest advantages of a marquee is that you can decorate it as much or as little as you want. If simple is your style, stick to neutral tones and utilising white space with carefully selected, eclectic ceiling decorations. If you'd rather go bold and flamboyant, dive into patterns, bright colours and interesting table displays.
5. Don't forget the flooring
Most marquee hire companies will offer a wide selection of flooring for you to choose from. Depending on your location and climate, grass floors can give off a beautiful, natural feel for your wedding. However, in cooler atmospheres, consider hiring carpet or wood flooring to warm up the area and add a sense of formality.
If you want to create a timeless wedding that is unsurpassed in its beauty, look no further than hiring a marquee. Tying the knot is a huge deal, so give this day the grandeur it deserves by checking out your marquee options with Marquee Monkeys today.